BIOL 474, Plant Ecology (4 credits)
Spring 2006 - Biology 474 - Syllabus - Introduction (PDF) - 2004 Final Presentation Guidelines (PDF) - Plant List - Plant Characteristics - Literature - Useful links
Literature:
(USDA ID) USDA PLANTS Database ||

Toolik-Arctic Geobotanical Atlas ||

Flora of North America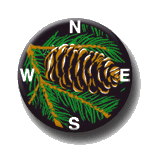 borealforest.org ||

Flora of the Canadian Arctic Archipelago ||

Families of Flowering Plants
---
Much of the literature used in the Plant Ecology class is available on line through the JSTOR journal archiving service. Each online document has a stable URL that will always link to the JSTOR archive and allow you to browse the document one page at a time. JSTOR also provides the articles as low (150 dpi) and high (600 dpi) resolution images saved as PDF files. Links to the low resolution PDF files are generally not provided if the high resolution files are under approximately 2,500 kb in size.
NOTE: The links may only function if the archive is accessed from a UAF network.
Literature Sources