Teaching
BIOL 495/695, Arctic Alaska Environmental Change: Field Excursion to the North Slope (4 credits)
Home - 2014 Course Schedule - Full Syllabus (PDF, updated Jan. 24, 2014) - Field Equipment List - 2012 Class Photos
Course dates: June 6-21, 2014
Visit UAF Summer Sessions to register for this course. View the Summer 2014 Course Guide (scroll down for the Guide) for more information on classes. Select the "Who Are You?" link to find information related to your student status.
International Application (PDF)
Informational Brochure (PDF)
Driving north on the Elliott Highway: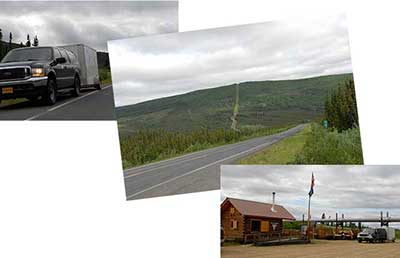 Tuition and course fees: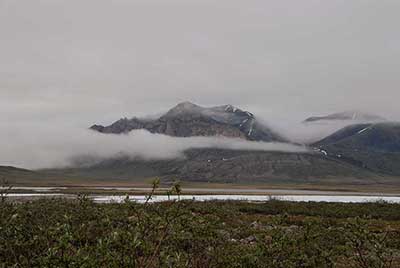 From dramatic vistas...
Undergraduate: $2,852 - Graduate: $3,615
Course cost includes transportation and meals during field work, one night at Toolik Field Station, accident insurance and five nights campus dorm housing. Students are responsible for transportation to and from the University of Alaska Fairbanks and meals during the on-campus portion of the course prior to and after the field work.
A $500 non-refundable deposit is required within one week of acceptance to the course. Final payment is due May 9, 2014. Students are encouraged to consider the purchase of travel insurance.
Course Description:
to miniature lichens and fungi.
This course will consist of:
-- 3 days of preparation with lectures, local field trips in the Fairbanks area and logistics for the excursion.
-- 10-day excursion.
-- 2 days of student presentations at the end.
This course is based on the guidebook and field trip conducted during the Ninth International Conference on Permafrost, and the 2010 IARC Summer Field School. The trip will have a strong emphasis on Arctic environments, local people, and field sampling.
Course goals and student learning outcomes:
The goals for the course are to: (1) Provide students with an in-depth field experience of Arctic environments, local people, and the oil industry's wetland rehabilitation program and application to current Arctic issues. (2) Provide methods of field sampling of Arctic vegetation, soils, and permafrost in a variety of Arctic ecosystems. (3) Visit Arctic research sites, including Finger Mountain, Atigun Pass, Toolik Lake, Imnavait Creek, Happy Valley, Sagwon, Franklin Bluffs and Prudhoe Bay.